OPS and Mitsubishi Heavy Industries - the first choice team for Marine Power in the Oceania region
Oceania Power & Solutions (OPS) is a marine power company. An Australian base and executives with offices, workshops and people throughout the Oceania region - including in Perth, Brisbane and Singapore. This regional presence draws together a team from across the group which has deep experience and expertise with many facets of the marine industry - from marine propulsion and power generation to maintenance support, project management, construction, procurement, spare parts and vessel commissioning and delivery.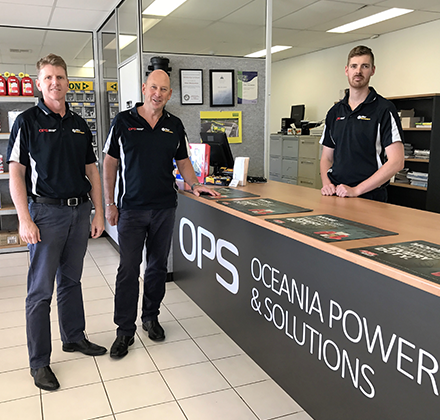 Mitsubishi Heavy Industries (MHI)
recently appointed OPS as the exclusive Australian distributor for Mitsubishi Marine engines. Mitsubishi engines are trusted by owners and operators around the world across a vast range of machinery applications. Mitsubishi diesel, gas and petrol engines are designed and manufactured to achieve the highest level of power generation efficiency while maintaining a high environmental standard. Mitsubishi engines are used in vehicles and ships for transportation; in construction and agricultural machinery, forklift trucks and generators to energise factories and buildings. MHI is one of the few companies in the world capable of producing engines in a range from 0.7kW to over 15,000kW, all backed up by a global service and support network.
OPS and MHI
togehther form a formidable combination to bring the Mitsubishi Marine Engine range to the Australian market for the first time. With the OPS presence on the west (Perth) and east (Brisbane) coasts of Australia, supported by a Singapore regional depot together with MHI's factory support from Sagamihara, Japan and regional parts depot in Singapore, we have your parts, service and maintenance requirements taken care of.
OPS is committed to deliver premium products to customers at affordable prices. We want to be known as a reliable engine distributor supported by our friendly after sales services.